La. Air Guard officer helps establish NATO-led unit in Poland
By Master Sgt. Daniel Farrell, 159th Fighter Wing Public Affairs Office
BELLE CHASSE, La. – U.S. Air Force officers routinely use their leadership skills to aid their units in achieving mission success, but not so common is for one to be selected to assist with establishing policies for a new multinational NATO-led unit.
Louisiana Air National Guard Maj Jason Chisolm of Olla, a logistics readiness officer with the 159th Fighter Wing, based at Naval Air Station Joint Reserve Base New Orleans in Belle Chasse, jumped at the opportunity to participate in the newly formed NATO Force Integration Unit in Bydgoszcz, Poland.
Chisolm spent three and a half months as a member of NFIU Poland and was recently invited back this September, along with his family, by the NFIU Poland commander to be recognized for his assistance in establishing the unit.
"Guard members typically don't get these type of missions," said Chisolm. "NATO was requesting United States Air Force LROs, but because of active duty [permanent change of station] cycles limited their availability, they reached out to the Guard Bureau to find qualified and seasoned LROs to fill their requirements."
NFIUs are command and control headquarters whose key mission is to rapidly deploy NATO and allied forces in response to threats on Eastern Europe allies' borders. These units also facilitate Allied defense planning and coordinate training exercises. Following the 2014 Wales Summit, the North Atlantic Council established eight NFIUs in Bulgaria, Estonia, Hungary, Latvia, Lithuania, Poland, Romania, and Slovakia.
As the only American member of NFIU Poland Logistics Section, Chisolm's experience as a squadron operations officer was utilized heavily in the coordination of exercises, tracking events, movements, as well as, establishing relationships and creating procedures for the new unit.
"When I arrived in May 2016, everything was just standing-up." said Chisolm. "The logistics chief was in the process of writing the section standard operating procedures. He rapidly brought me on board and with some hard work and some long days, we were able to remedy some issues and write some common sense SOPs based on NATO guidance and applying it to the NFIU needs and responsibilities."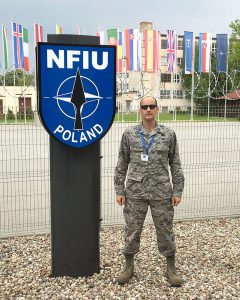 Chisolm and his section didn't have to wait long to be put to the test. Only one month after his arrival, Poland was engaged in a multinational ground-attack exercise called Anaconda-16 Ananconda-16 was a large-scale display of military strength in response to Russia's assertiveness in the region, and was the largest war game in Eastern Europe since the end of the Cold War. The ten-day U.S. and Poland led exercise included 31,000 troops and thousands of vehicles from 24 countries.
"The scale of this exercise was huge", said Chisolm. "We were there in thick of it, facilitating, tracking, and coordinating reception, staging, onward movement and integration throughout Poland.
"Seeing how our NATO partners do business, how they interact, communicate and work together, you get the sense of how strong our NATO partner's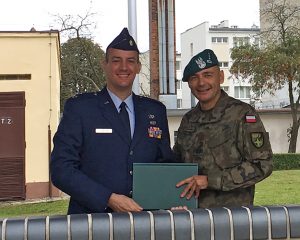 commitment is and the how the NFIUs are a great addition to the NATO Alliance," he said.
Chisolm stated that his U.S. Air Force and Air National Guard training greatly prepared him for success to work with the multinational NATO unit, but like any mission, there were challenges to overcome.
"We had multiple NATO military members in our section including Poles, Belgians, Croatians, Germans, and Romanians, just to name a few, all taking and giving orders in English. However, with a little finesse and patience we were able to team build together and collaborate to solve problems and work toward a common goal."
After the initial establishment, U.S. Air Force LROs will perform a three-year tour at each of the eight NFIUs.