La. Guard helps combat coastal erosion in New Orleans
By Sgt. Garrett L. Dipuma, Louisiana National Guard Public Affairs Office
NEW ORLEANS – The Louisiana National Guard's 1st Assault Helicopter Battalion, 244th Aviation Regiment and Forward Support Company, 205th Engineer Battalion supported the U.S. Fish and Wildlife Service during the annual Christmas Tree Drop in the Bayou Sauvage National Wildlife Refuge in New Orleans East, March 14.
During the operation, LANG aviators and engineers hooked up and dropped bundles of recycled Christmas trees provided by Orleans Parish residents into key areas to rebuild marshland in Bayou Sauvage. This process creates new marsh habitats by building structures that can support native marsh grasses, which traps and holds sediment, creating more land.
The project has re-established hundreds of acres in the Bayou Sauvage NWR over the last 23 years. This year, the LANG and the U.S. Fish and Wildlife Service emplaced approximately 8,000 Christmas trees.
"Bayou Sauvage is the second largest urban wildlife refuge in our system o over 544 refuges in the United States," said Shelley Stiaes, refuge manager for Bayou Sauvage, Mandalay and Bayou Teche National Wildlife Refuges. "It's very important for creating waterfowl habitat … we have seen several acres of emergent marsh growth over the past 23 years that we have been doing this program."
Stiaes said that in addition to creating a wildlife habitat, rebuilding eroded marshlands in the area is important because they act as wave breaks that protect against New Orleans East flooding from storm surge during hurricanes.
"This is important because we're helping our community by restoring the coastline while we get valuable training time," said Chief Warrant Officer 3 Gabriel Ruiz, the LANG officer-in-charge of the operation. "Sling-load training opportunities don't come very often, so when we get an opportunity to train this way, there's a lot of value to it."
Ruiz said that the benefits of this training can be seen as recently as two years ago, when LANG flight crews dropped countless sling-loaded sandbags into breached levees to slow floodwaters in 2016.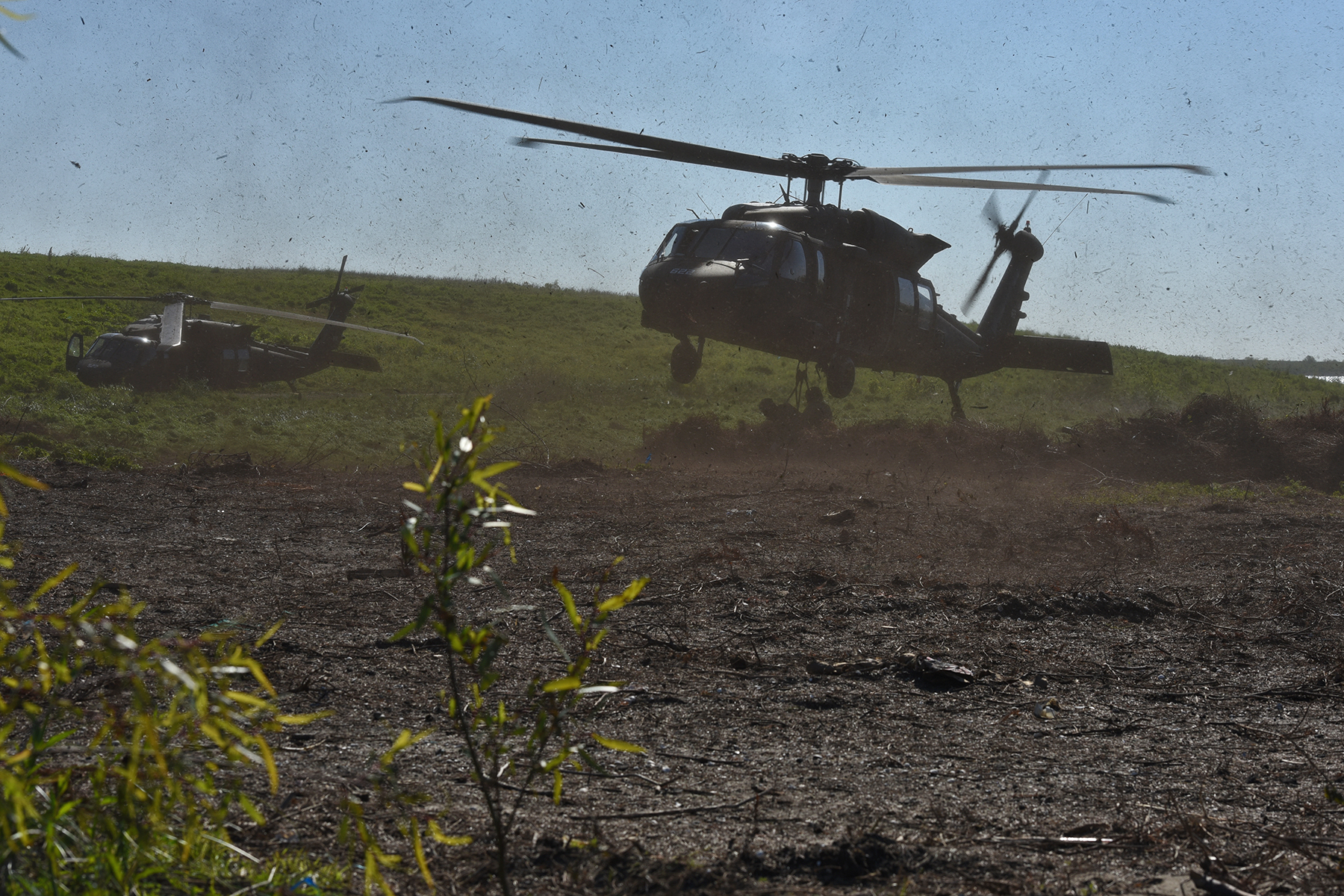 "You have to be pretty precise in sling load operations, but it's more about communication than anything," said Ruiz. "Once we get over a load, the pilots can't see anything, so they rely on the directions they get from the crew member in the back of the helicopter who is looking at the load while they fly."
Ruiz said that being able to participate in the Christmas Tree Drop every year is invaluable to developing those skills in a controlled environment so when the need arises, flight crews are ready to speedily and efficiently complete their missions.
"We could not do this project without the National Guard," said Stiaes. "When we started this project, it was very labor intensive, and once we partnered with the Guard, we were able to do this project in a matter of hours instead of weeks."
Please visit http://geauxguard.com/ for the latest Louisiana National Guard releases, photos and videos. Like us on Facebook, follow us on Twitter, Flickr, and YouTube!