Louisiana National Guard's New Orleans museum opens new exhibit
By Spc. Garrett L. Dipuma, Louisiana National Guard Public Affairs Office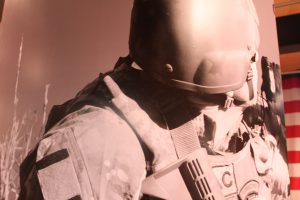 NEW ORLEANS – The La. National Guard Ansel M. Stroud, Jr. Military History and Weapons Museum at Jackson Barracks in New Orleans will open a new, free to the public exhibit showing the LANG's role in the Global War on Terror (GWOT) Nov. 18 at 10 a.m.
The exhibit, "Global War on Terror: The Louisiana National Guard and the 21st Century Warfight," will feature artifacts and testimonials from Soldiers and Airmen who fought in the LANG's longest continuous conflict to date.
"We aimed to capture both the war overseas and the impacts on the home front by integrating patron-immersed experiences such as touch screen maps, a mini theater and interactive oral history booths where LANG Soldiers and Airmen recollect on their participation during the past 15 years," said Maj. Heather Englehart, director of the museum.
Ian Graham, a high school history teacher in New Orleans who deployed to Iraq in 2005 with 1st Battalion, 141st Field Artillery Regiment (known as the Washington Artillery), has an old uniform as well as some other effects that are featured in the display. He stressed the importance of having historical events commemorated in a museum.
"There are different ways you can study," said Graham. "A museum is more practical; the artifacts are tangible. It's important to have an unbiased source to form an opinion on an event, and the museum is exactly that – an unbiased room of evidence."
In addition to the new GWOT exhibit, the museum is still showing 12 portraits of veterans painted by internationally recognized Brooklyn-based artist Nina Talbot. Among the 12 portraits shown is a painting of Chief Warrant Officer 2 Andrew Le of the 415th Military Intelligence Battalion.
The museum also has exhibits dedicated to the LANG's involvement during the aftermath of Hurricane Katrina as well as a collection of historic weapons, uniforms and other artifacts dating back to the late 1700s.
The museum is open from 10 a.m. through 4 p.m. Monday through Saturday, and closed on select holidays. For more information please visit: www.geauxguardmuseums.com.