Command Senior Enlisted Leader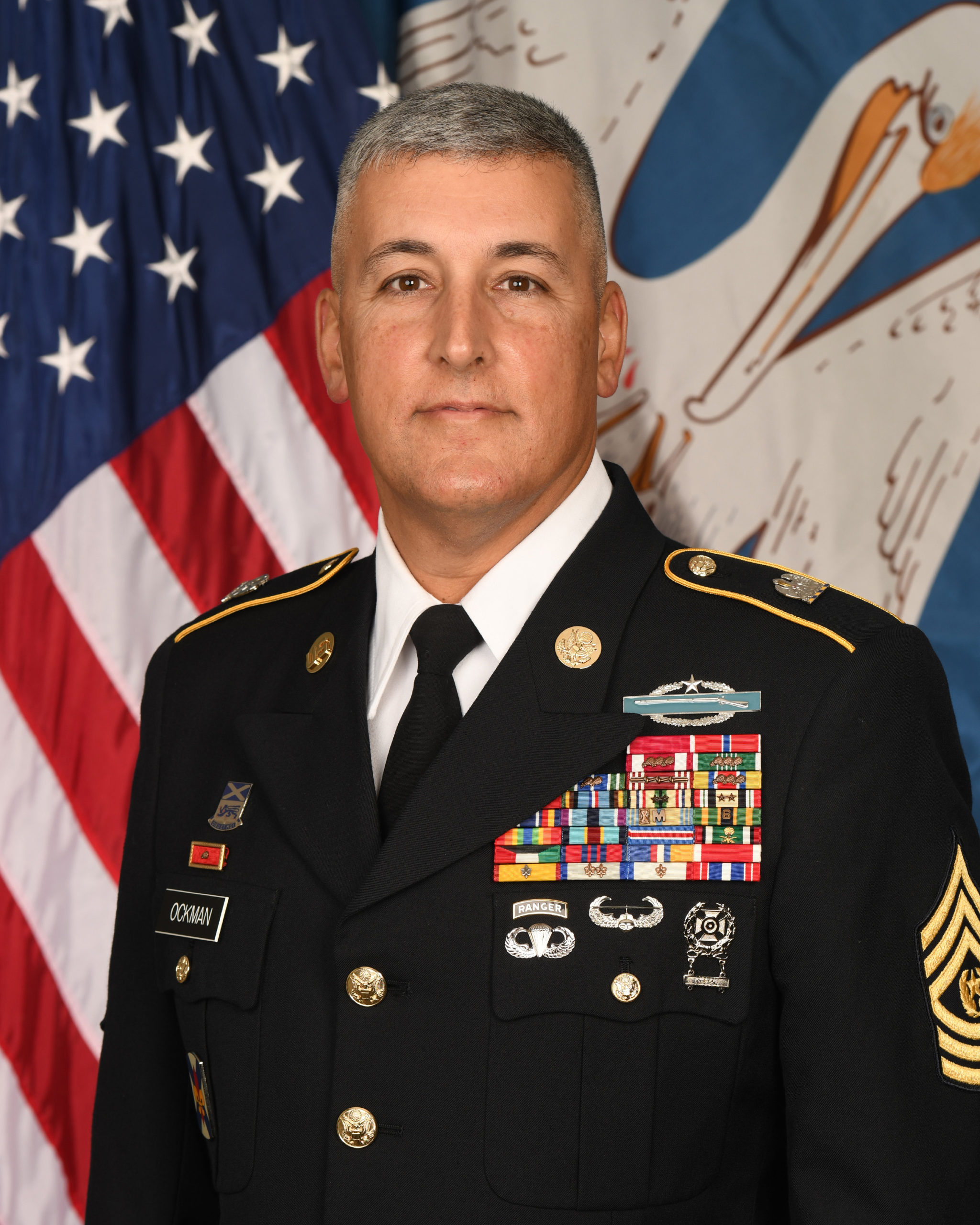 Command Sergeant Major
Clifford J. Ockman, Jr.
Command Sergeant Major Clifford J. Ockman, Jr. assumed responsibility as the Command Senior Enlisted Leader for the Louisiana National Guard on 1 November 2020. He advises The Adjutant General of Louisiana on all matters pertaining to the more than 11,500 Soldiers and Airmen.
CSM Ockman enlisted in the United States Army in 1989 as an infantryman. In 1997, he transferred to the Louisiana Army National Guard and is currently an Active Guard Reserve Soldier.
CSM Ockman has served in various infantry positions throughout his active duty and National Guard career. His assignments include Airborne, Light Infantry, and Mechanized Infantry units. On 1 December 2005, he was appointed to CSM, and has since served as a CSM for the 1/141st Field Artillery Battalion, 199th Leadership Regiment, 256th Infantry Brigade Combat Team, 139th Regional Support Group, 199th RTI Regimental CSM, Commandant of the Louisiana NCOA, and most recently, as the Louisiana Army National Guard CSM. He has also served as the Senior Enlisted Advisor for the Louisiana Construction and Facilities Management Office and the Louisiana National Guard's Reintegration Office.
He is a veteran of Operation Desert Shield/Desert Storm, Operation Uphold Democracy, and Operation Iraqi Freedom III.
CSM Ockman's civilian and military education includes Bachelor of Science and Associate in Science degrees from Excelsior College in New York. He is also a graduate of the United States Army Sergeants Major Course and the Nominative Leader Course.
His awards and decorations include the Legion of Merit, Bronze Star Medal, Meritorious Service Medal (4th award), Army Commendation Medal (5th award), Army Achievement Medal (3rd award), Army Good Conduct Medal (3rd award), Army Reserve Component Achievement Medal (5th award), National Defense Service Medal (2nd award), Armed Forces Expeditionary Medal, Southwest Asia Service Medal (2 BSS), Iraqi Campaign Medal, Global War on Terrorism Service Medal, Humanitarian Service Medal, Armed Forced Reserve Medal with "M" device and Bronze Hour Glass, Noncommissioned Officer Professional  Development Ribbon (Numeral 6), Army Service Ribbon, Overseas Service Ribbon, Army Reserve Component Overseas Training Ribbon, Kuwait Liberation Medal (Saudi Arabia), Kuwait Liberation Medal (Government of Kuwait), Louisiana Legion of Merit, Louisiana Commendation Medal, Louisiana War Cross, Louisiana Emergency Service Ribbon (6th award), Louisiana General Excellence Medal (5th award), Louisiana Longevity Ribbon (4th award), New York Medal for Merit, Meritorious Unit Commendation (2nd award), Ranger Tab, Parachutist Badge, Air Assault Badge, Combat Infantryman's Badge (2nd award), Expert Infantryman's Badge, 2005 1SG Jerry Galloway First Sergeant of the Year Award, 2016 LAARNG CSM of the Year Award, and is the recipient of the Order of Saint Maurice (Primicerius) and the Honorable Order of Saint Barbara.
CSM Ockman resides in St. Charles Parish, Louisiana, and for over 30 years, has been married to the former Valerie Bordelon. They have one son, Cameron (Emily), who are both Warrant Officer's in the Louisiana Army National Guard.