La. Guardsmen train Belizean forces to help at-risk youth
By Staff Sgt. Josiah Pugh, Louisiana National Guard Public Affairs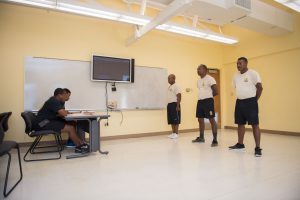 NEW ORLEANS – The Louisiana National Guard's Youth Challenge Program concluded its most recent 10-day Challenge Program Instructor's Course at the Gillis Long Center in Carville, Sept. 28. The class graduated with eight guest cadre from the Belize Defence Force who came to learn how to instruct troubled youths in their home country.
The LANG and the BDF have trained and worked together as part of the State Partnership Program for more than 20 years. The trained cadre will return to Belize to facilitate a Youth Challenge Program that will mirror the LANG's own program of the same name. The program is schedule to start Oct. 16, 2017.
The Youth Challenge Program is designed to teach young cadets self-discipline, leadership and responsibility. The cadre who attend CPIC walk away able to instruct their cadets in the areas of physical fitness, drill and ceremony and how to run cadets through their daily routines.
"We came here to learn how to deal with our young men," said Colive Cesimiro, chief officer of the Belizean National Youth Cadet Service Corps. "We have received training that we believe will be useful when we go back home in developing our Youth Challenge Program … and with our other partners be able to work together for the betterment of youths in our country."
Belize's National Youth Cadet Service Corps, which is being redesigned and renamed YCP, teaches troubled young men between the ages of 13 to 17 good work ethics and values over a 10-month span. The BDF Soldiers came to Louisiana to learn how to incorporate the knowledge they obtained at CPIC into a similar program back home.
Warrant Officer Class 2 Theresa Robinson, administrator for  the Belizean YCP program, said she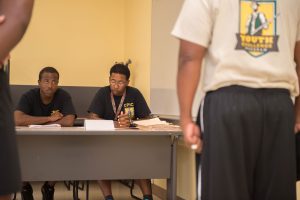 came to CPIC unsure of how her troops would benefit from the program, but is walking away with confidence in the course's benefit.
"I was a bit skeptical about what to expect," said Robinson, "but after coming here I am in a better position to understand how to go about building our own program."
Sgt. 1st Class Donnell Minor, the lead CPIC instructor, said he was happy to include the Belizean troops with other cadre from Louisiana and to impart knowledge that would benefit the youth of Belize.
"We enjoy doing this because we love the job of teaching young people and training them how to be a success in life after this program," said Minor.