By MSgt. Sgt. Toby Valadie, Louisiana National Guard Public Affairs Specialist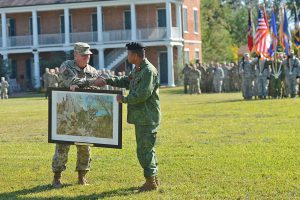 NEW ORLEANS – For 20 years now, the Louisiana National Guard and the Belize Defence Force have trained together and learned from each other as part of a program administered by the National Guard Bureau called the State Partnership Program.
On Nov. 4, Maj. Gen. Glenn H. Curtis, adjutant general of the LANG, and Brig. Gen. David Jones, commander of the BDF, celebrated the partnership with a formal pass-and-review ceremony on the Jackson Barracks Parade Field at Jackson Barracks in New Orleans. The ceremony included music from the 156th Army Band, a 19-gun salute by the 1st Battalion, 141st Field Artillery Regiment, a fly-over of two F-15s from the 159th Fighter Wing and concluded with a pass and review of LANG units.
Gov. John Bel Edwards said the partnership has been a model at the international level.
"When it comes to the State Partnership Program, Louisiana-Belize have really raised the bar. For over 20 years, Louisiana-Belize have participated in 253 events together. We've shared experiences, knowledge and man-power on everything from disaster preparedness to management and development," said Edwards. "This truly is a partnership in the truest sense of that word."
The SPP partners states and countries together to develop military-to-military and inter-agency operations. There are 76 countries across the globe partnered with 70 unique security partnerships.
The Louisiana-Belize partnership is one of the oldest in the program. It was established on April 23, 1996 and began when Brig. Gen. Earl Arthurs, who was the BDF commander and Maj. Gen. Ansel M. Stroud Jr., who was then the adjutant general of Louisiana, worked together to create a vision for the program.
"So they [Arthurs and Stroud] started this partnership on a handshake and an agreement that we would grow together in our partnership. But the leaders of the organizations … grew this thing into a fully complementary relationship," said Curtis.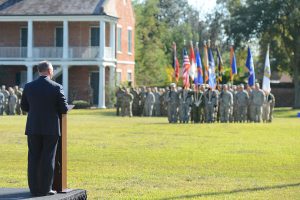 The two countries have participated in 253 events over the last 20 years. Some of the engagements have included disaster response efforts, disaster preparedness, humanitarian assistance efforts and planning, human rights initiatives, Louisiana emergency operations center visits, medical exchanges, aeromedical planning for disaster preparations, communication systems exchanges, equipment management program exchanges, leadership development, soldier management, family programs, military field sanitation, aviation safety and maintenance.
"To me, the highlight of our relationship happened in 2010 when Haiti, our other SPP partner had their devastating earthquake …The country of Belize and BDF, along with the Louisiana National Guard, deployed to Haiti together to render lifesaving measures, to do humanitarian relief and we worked 'shoulder to shoulder' as the BDF says to 'protect what matters' as the Louisiana Guard says," said Curtis. "So it is a complete partnership and I look forward to continuing to develop it and to continue to grow."
Jones said the BDF has benefited tremendously over the years.
"It is indeed a momentous occasion today that should not be understated. We have reached a great milestone in our partnership we have with the Louisiana Army National Guard," he said. "We must applaud the vision of those before us who decided that the Louisiana Army National Guard would take the Belize Defence Force under their wings in 1996 for the fruitful partnership it has produced.
During the ceremony, Curtis presented Jones with a commemorative print painted by Maj. Heather Englehart, director of the LANG museums, that highlights just a few of the many training opportunities conducted over the years.
"The relationship is truly special and we look forward to increasing this relationship over the next 20-years as we stand shoulder to shoulder," said Jones.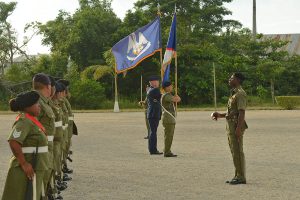 On Nov. 1, Jones and Curtis participated in a similar ceremony at Price Barracks in Belize City, Belize with Carlos R. Moreno, ambassador of the United States of America to Belize, in attendance.
"I think in the larger sense, it's about really learning from each other. Cultures that are different but in the end, not really that different. But I think there's a lot to be gained from these exchanged-type programs, said Moreno. "Both parties really emerge as better soldiers."
The purpose of the SPP is to foster mutual interests and establish habitual long-term relationships across all levels of society. The program as a whole encourages the development of economic, political and military ties between the states and partner nations.
Louisiana and Belize have expanded their relationship beyond traditional State Partnership Program exchanges to include combined leadership training opportunities and academic professional development. The LANG and BDF are planning a joint infantry training exercise in 2018, and have also pledged support for youth development programs in Belize.