La. Guard delivers critically needed nurses, supplies to Texas
By Capt. Rebekah Malone, Louisiana National Guard Public Affairs Office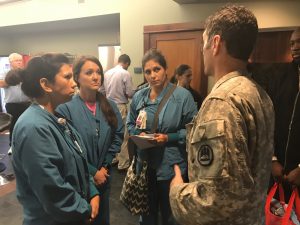 BATON ROUGE, La. – Louisiana National Guard UH-60 Black hawks brought a special delivery of critically needed medical supplies, blood and labor and delivery nurses for two hospitals in hurricane ravaged Beaumont, Texas, Aug. 30.
The extensive flooding caused by Hurricane Harvey crippled the supply chain for blood and medical supplies and caused a shortage of medical personnel.
"Our sister facility, CHRISTUS St. Elizabeth is in the heart of a Harvey-ravaged area. They desperately needed labor and delivery nurses because many of their own nurses were either trapped in their homes awaiting rescue or dealing with the loss of their home," said Heather Hidalgo, director of marketing and communications for CHRISTUS St. Patrick hospital. "They also needed food, medicine, blood and blood products because there was no way to get into or out of the city."
Chief Warrant Officer 2 Andrew Montgomery, an instructor pilot, and his crew from G Company, 2nd Battalion, 238th Aviation Regiment (MEDEVAC), received the mission while they were flying search and rescue missions.
"We were doing search and rescue in Port Arthur when we got the call. It took about 30 minutes to break station to get back to Lake Charles to refuel," said Montgomery. "It took about 30 to 45 minutes to get to Beaumont with all the low ceilings and all the other aircraft doing search and rescue."
Montgomery is no stranger to working state responses. During his 14 years in service, he has responded to Hurricanes Katrina, Rita, Gustav and Ike and last year's devastating August flood. Though now a MEDEVAC pilot, he also deployed to Iraq as a ground medic and Afghanistan as a flight medic.
But seeing the devastation from Hurricane Harvey brought back a flood of memories from Hurricane Katrina for Montgomery, who served as a flight medic and crew chief Staff Sgt. Jeremy Miller of Lafayette.
"Staff Sgt. Miller and I were talking earlier when we were in Port Arthur yesterday [about having] flashbacks to Katrina seeing all the water, all the aircraft everywhere, all the chaos and pandemonium that ensured after a big storm like that," said Montgomery.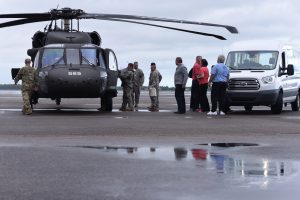 For Montgomery and his crew, the opportunity to bring help for hospitals and babies was a special mission.
"It was a really great experience to be able to drop off medical personnel who can help, especially when we found out they were NICU nurses. One of them was a nurse for my co-pilot, for their daughter when they were at Cabrini [in Alexandria]," he said. "That was pretty cool to have that connection."
Whether it's this response or one in the future, Montgomery said being in the Guard and helping his community during crisis is why his crew serves.
"Any little thing we could do … it's our mission, we love to be a part of the big help. It's always great to be there during people's worst times. That's what's very fulfilling and what we all enjoy about it.
Donald Lloyd, president and CEO of CHRISTUS St. Patrick Health System said the mission to resupply the Beaumont hospitals was critical.
"We cannot thank you [LANG] enough for your support. Not only for your service to our country and your service to the state of Louisiana, but the service to our ministries and the people of southeast Texas and Louisiana in this time of crisis," said Lloyd.
Other members of the UH-60L crew included pilot Warrant Officer 1 Clinton Giglio of Bunkie, and Sgt. Kenneth Buller, of Pineville, flight medic. Members of the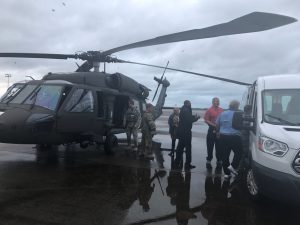 UH-60M Blackhawk crew from 1st Assault Helicopter Battalion, 244th Aviation Regiment included Chief Warrant Officer 2 Corey Mathews of Lafayette, Chief Warrant Officer 2 Jeremy Price, of Hammond, Sgt. 1st Eugene Bordelon, of Ponchatoula, and Sgt. John Chambliss, of Baton Rouge.a
Recently, LANG Adjutant General, Maj. Gen. Glenn H. Curtis summed up the opportunity to help Texas as a special duty to Louisiana's neighbor.
"They [Texas] were here during Katrina, and they helped us last year during the floods. That bond, that feeling you get when you cross state borders to help those in in need to provide relief, that's what makes the National Guard special," said Curtis.